Creation 2007
Giants spectacular
The Little Girl Giant and the hidden Rhinoceros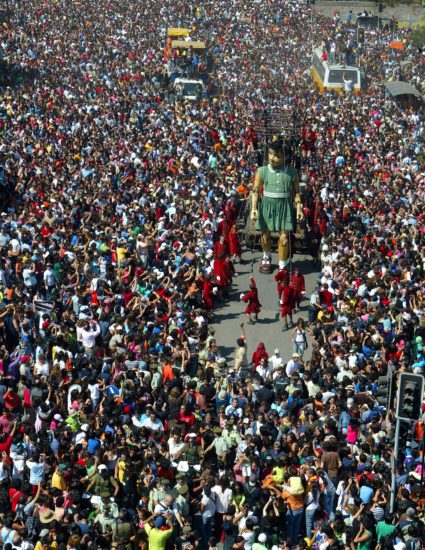 A creation presented from 26 to 28 January 2007 in Santiago, Chile.
For the first time, Royal de Luxe presents a story from the saga of the Giants on another continent than Europe. Programmed by the Festival Teatro a Mil in Santiago, this show meets an incredible success among the people, the fervour of the Chilean public exceeds what one could have imagined - 2 million spectators.
A metallic Rhinoceros, that had run away from Africa, appeared one morning from the copper mines of Chile.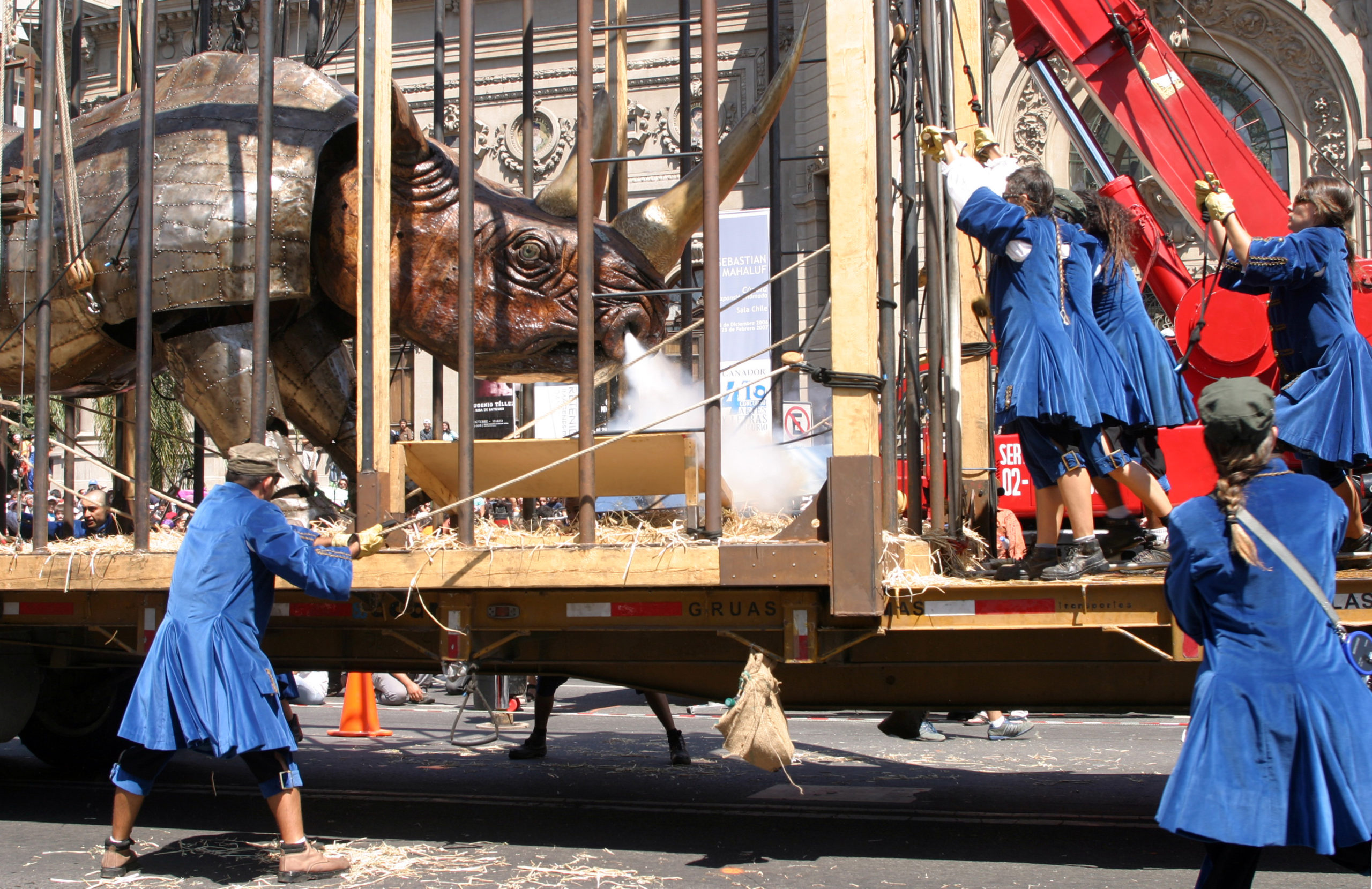 Distraught by the size of the machinery and the giant trucks, he scoured the countryside until one day, exhausted; he hid in the streets of Santiago causing some damage.
The Little Girl-Giant, well known to the Authorities for her adventures in Europe, was called upon to capture the animal.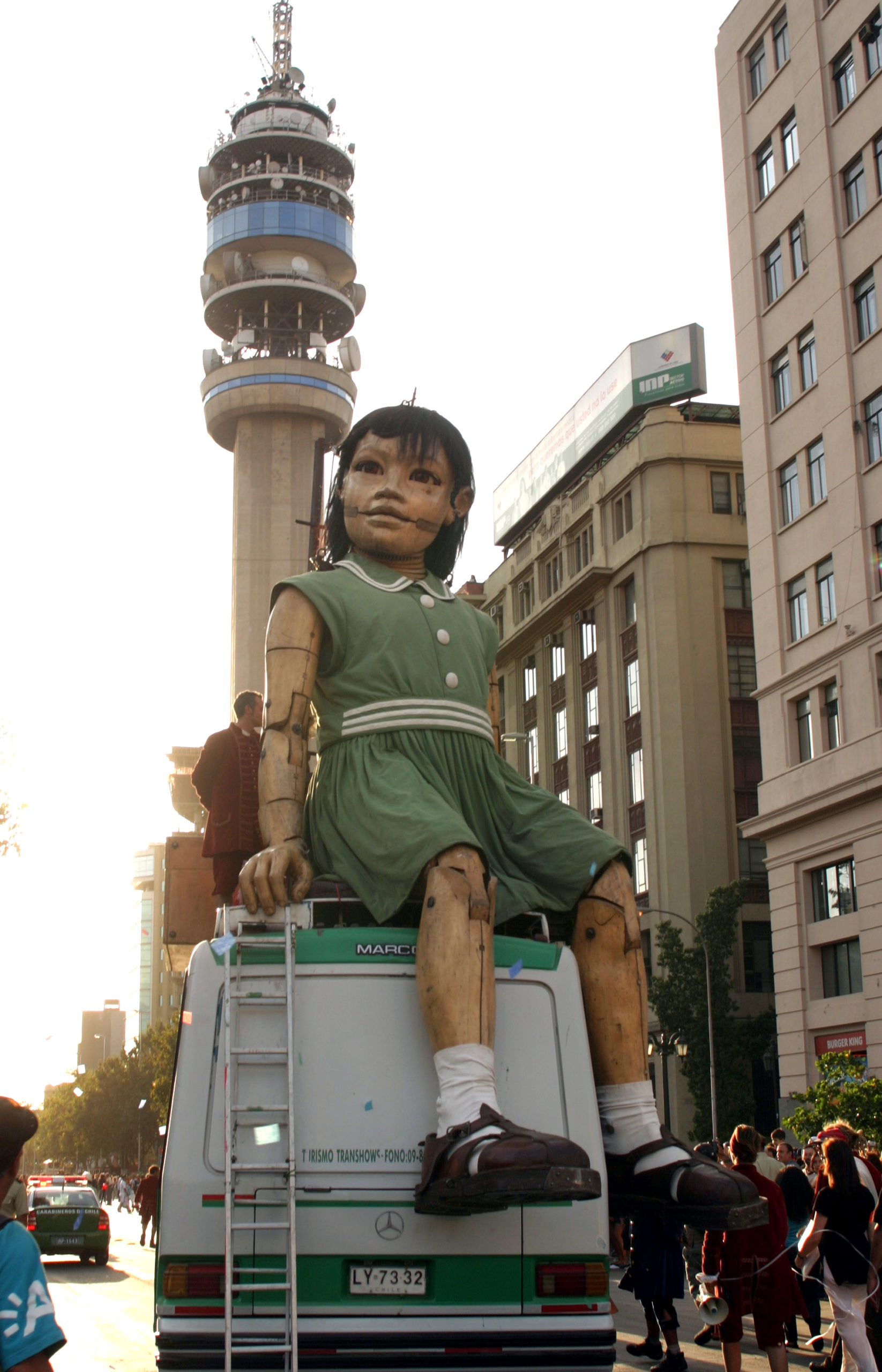 © Jean-Luc Courcoult, Author, director - Founder of Royal de Luxe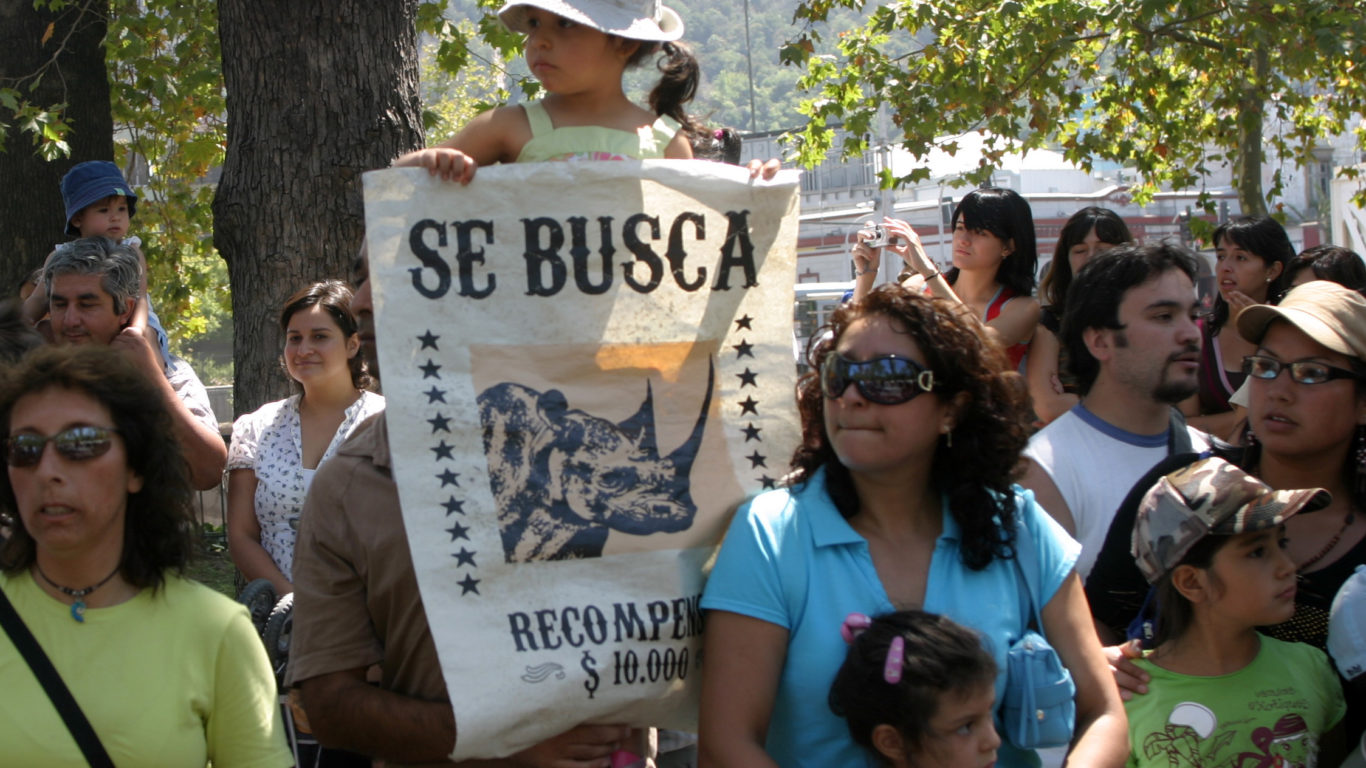 Testimonials
« Recuerdo con tremenda emoción la primera vez que vi a la pequeña. Recuerdo haber pasado por Alameda con Teatinos en una micro y ver los buses amarillos dados vuelta. Recuerdo seguir a la pequeña por todas sus aventuras. Si fue el 2007 yo tenía 27 años. Y me sentí una niña. Y fue mágico sentir que toda la ciudad se involucró en el juego y la fantasía. (También vi al tío escafandra). Hasta hoy mi mamá llama a mi hermana menor "mi pequeña gigante" ❤️ »
« Hola, solo quería escribirles por que estoy muy emocionada, cuando era pequeña vi el show de la pequeña gigante y el rinoceronte, y a los años después pude ver a la pequeña gigante conel tío escafandra, en santiago de Chile. y hoy visitando la pagina me da much emocion haver podido vivir eso y ver esta maravillosa obra de teatro callejero, ojala pueda volver con obras así, con la abuela, o con todos los gigantes y hacer una historia genial. Chile los amo y los ama. »
Leave your comment
Press
« Royal de Luxe a réalisé le rêve que nous faisons : que les chiliens, peu habitués à descendre dans la rue, surtout depuis la dictature, habitent la rue pacifiquement. Mais aussi qu'ils y vivent côte à côte quelle que soit leur couche sociale dans une ville géographiquement très divisée. »
« Estamos fascinados, es tan real. »
« […] La obra callejera de la compañía Royal de Luxe cerró tres días históricos de multitudes emocionadas. »
« La expectación de 'Gigante en Chile' es doble: por primera vez, las marionetas viajan fuera de Europa y se espera un impacto acaso mayor que el que consiguieran en mayo en Londres, cuando la BBC interrumpió sus transmisiones para mostrar en vivo cómo medio millón de personas seguían a 'la niña'. »
« Es primera vez que el montaje sale de Europa. » 'Para disfrutar de lo mejor de la cultura del mundo ya no necesitamos ir a Europa', dice Carmen Romero, una de las organizadoras del Festival Santiago a Mil […] »
« La muñeca, que desde la Plaza de Armas se movió hasta la Plaza de la Constitución, fue seguida por 60 mil personas. »
« Un exhausto pero visiblemente satisfecho Jean-Luc Courcoult, director de la compañía, despidió su montaje: 'Gracias a todos, la Pequeña Gigante tomará un barco mañana en Valparaíso. Gracias, gracias, ¡Viva Chile!'. »
« Les habitants s'étaient réveillés vendredi avec stupeur devant le spectacle de trois automobiles et deux autobus empilés en face du palais présidentiel de La Moneda, en plein centre de Santiago. 'Cest pas possible ! Que s'est-il passé', lançait une femme en se prenant la tête à deux mains, 'comment c'est arrivé' reprenait un passant qui ne pouvait croire cette vision des véhicules les uns sur les autres au milieu de l'Avenue Alameda, l'artère centrale de Santiago. 'Un rhinocéros en colère venu d'Afrique, passant par les mines de cuivre du nord, a frappé des véhicules et on espère que demain la situation sera rétablie par une enfant de 5 mètres connue comme la Petite Géante', indiquait lapidairement un communiqué de Royal de Luxe. »