Creation 2023
Giants spectacular
Monsieur Bourgogne's Bull Machin
Listen to the story
Listen to the story
"Monsieur Bourgogne's Bull Machin" is a show closing the residency project "Great Bellevue" in which the company was invested since 2019. The Friday was devoted to Bellevue and especially to the pupils and students of the schools the company bonded with, via the character of Monsieur Bourgogne, creating a remarkable relationship durably anchored in the collective memory of the neighbourhood. This creation is a co-production Royal de Luxe – Nantes Métropole – City of Nantes – City of Saint-Herblain – City of Villeurbanne. Around 400 000 spectators.
Nantes is a city whispering to the ears a nonchalance that needs to be tamed.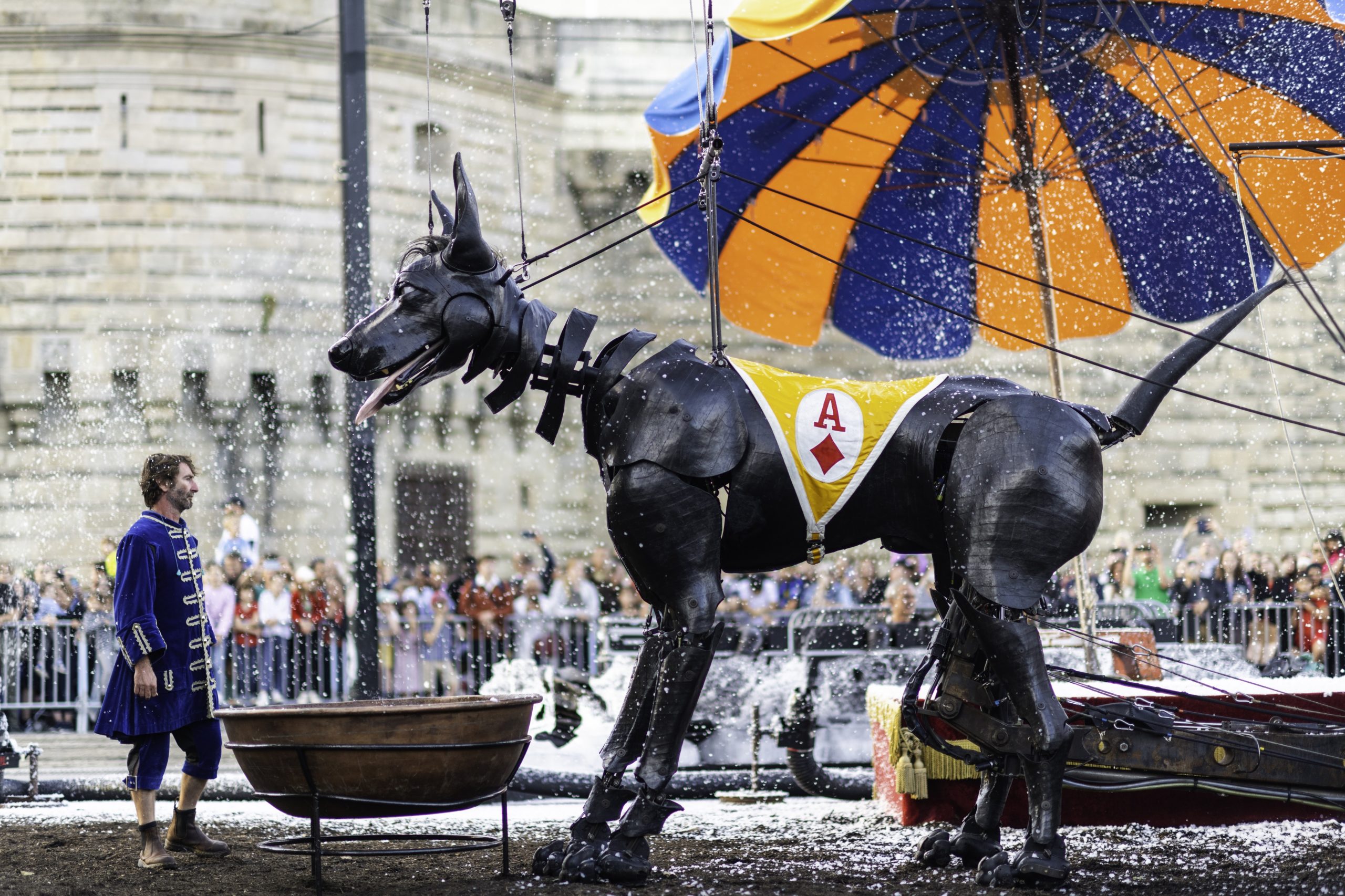 A sort of weightlessness to sniff sideways to avoid being dragged somewhere else than underneath our feet.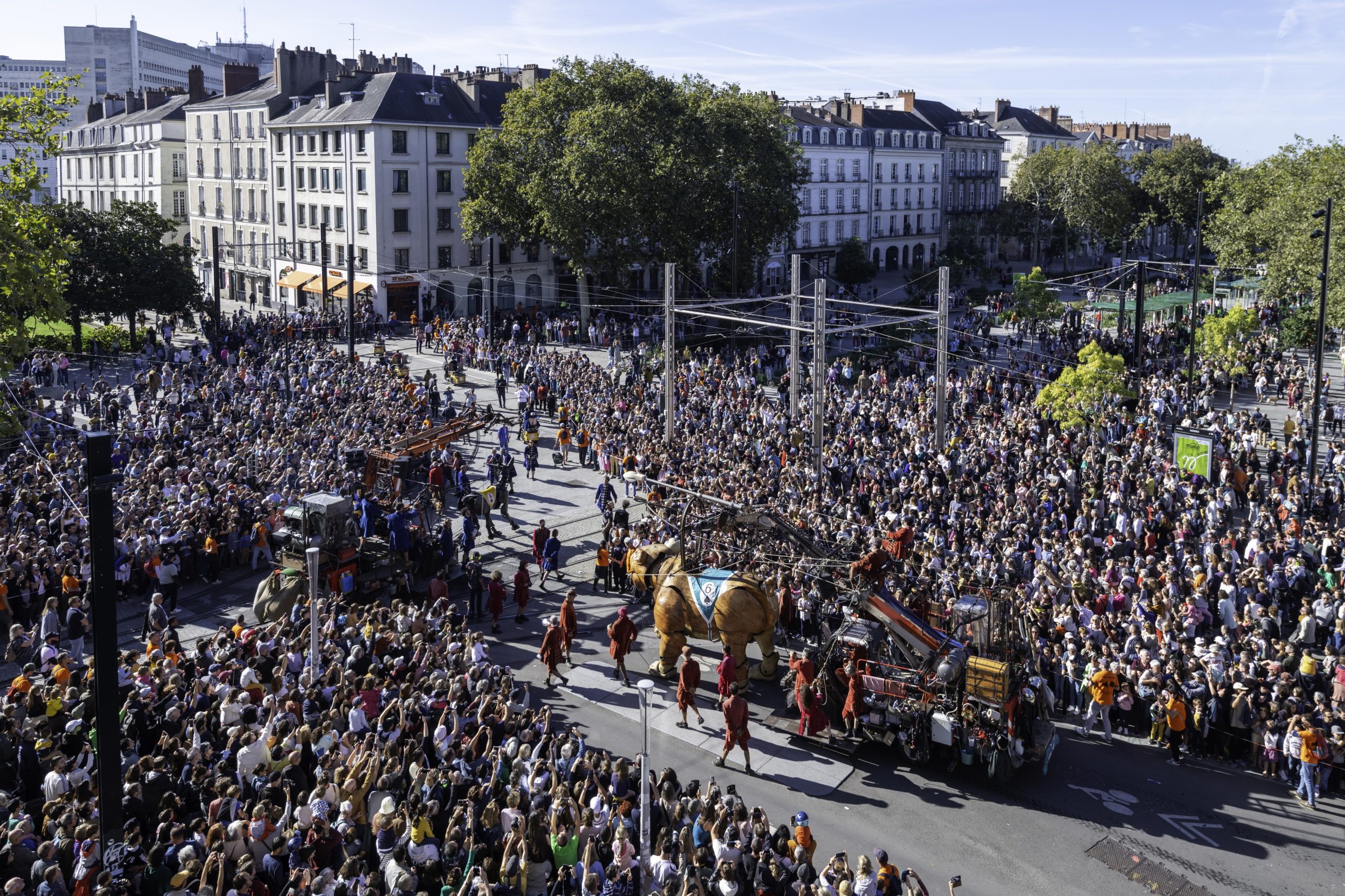 It might be a journey where two dog friends want to see each other.
Deep down the Bull Machin and the Xolo came more to have fun than to distract people.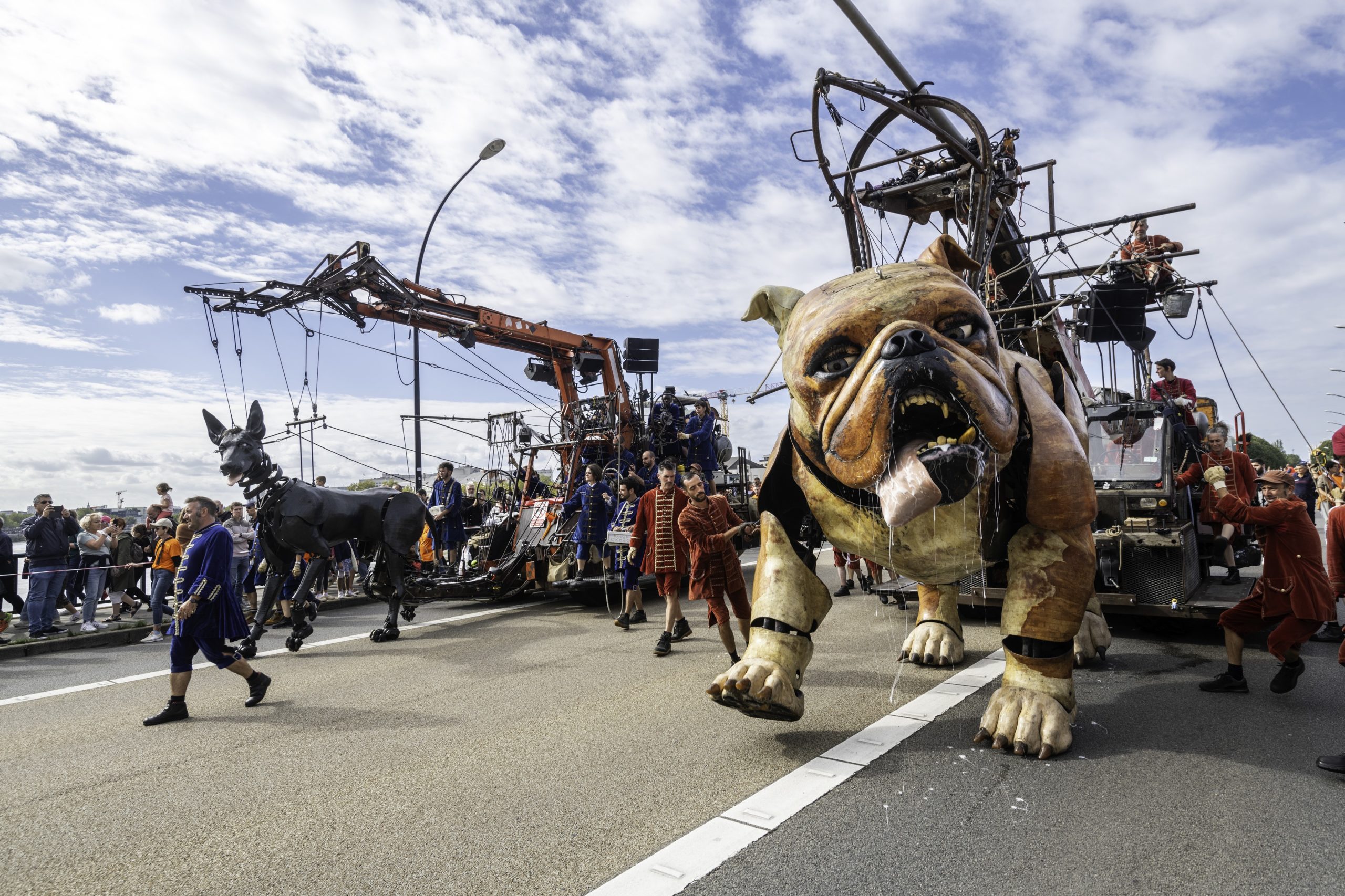 They both have wonders underneath their paws.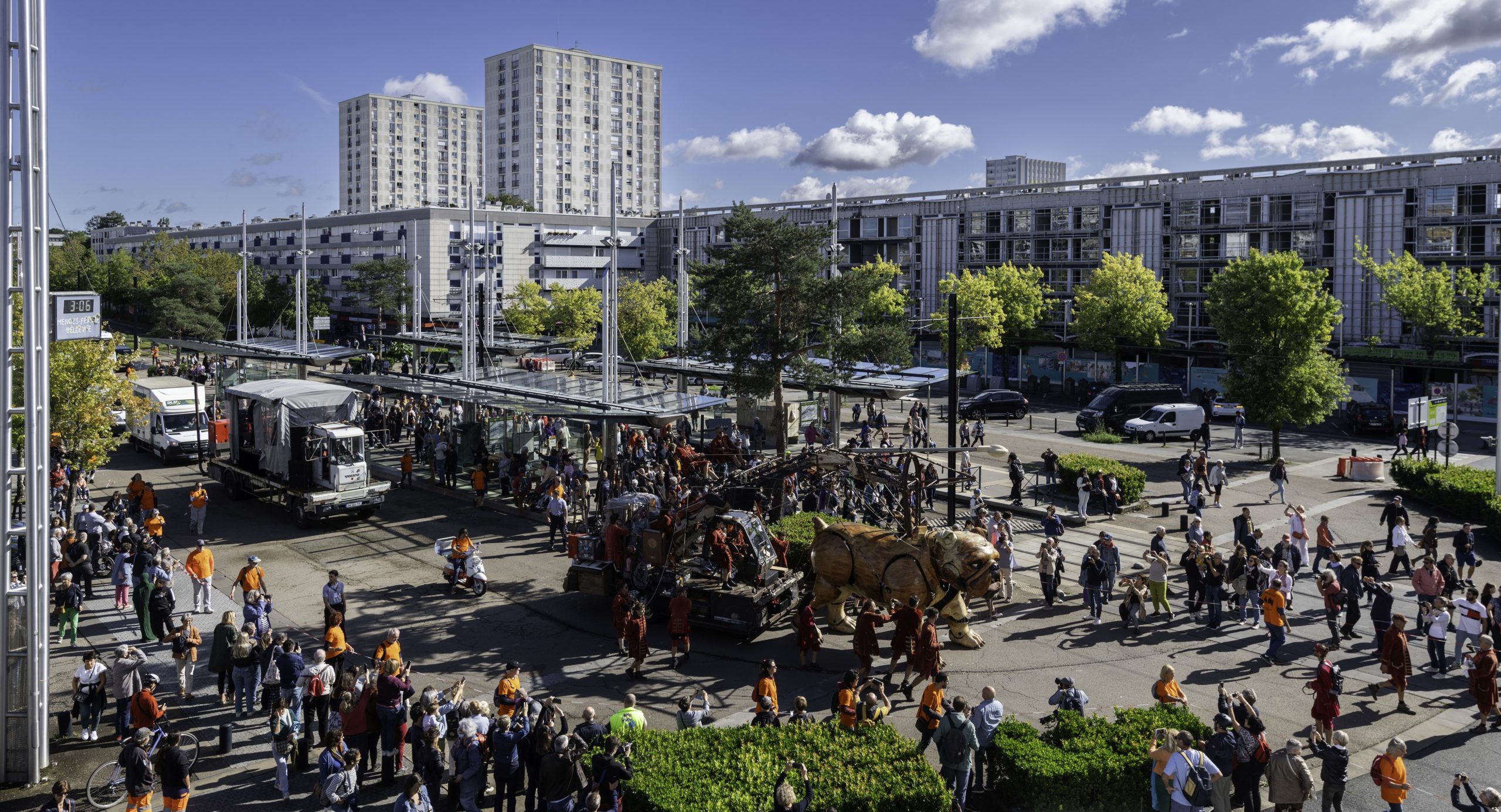 When they run, the concrete shines with tenderness and bends to embrace passers-by with two arms: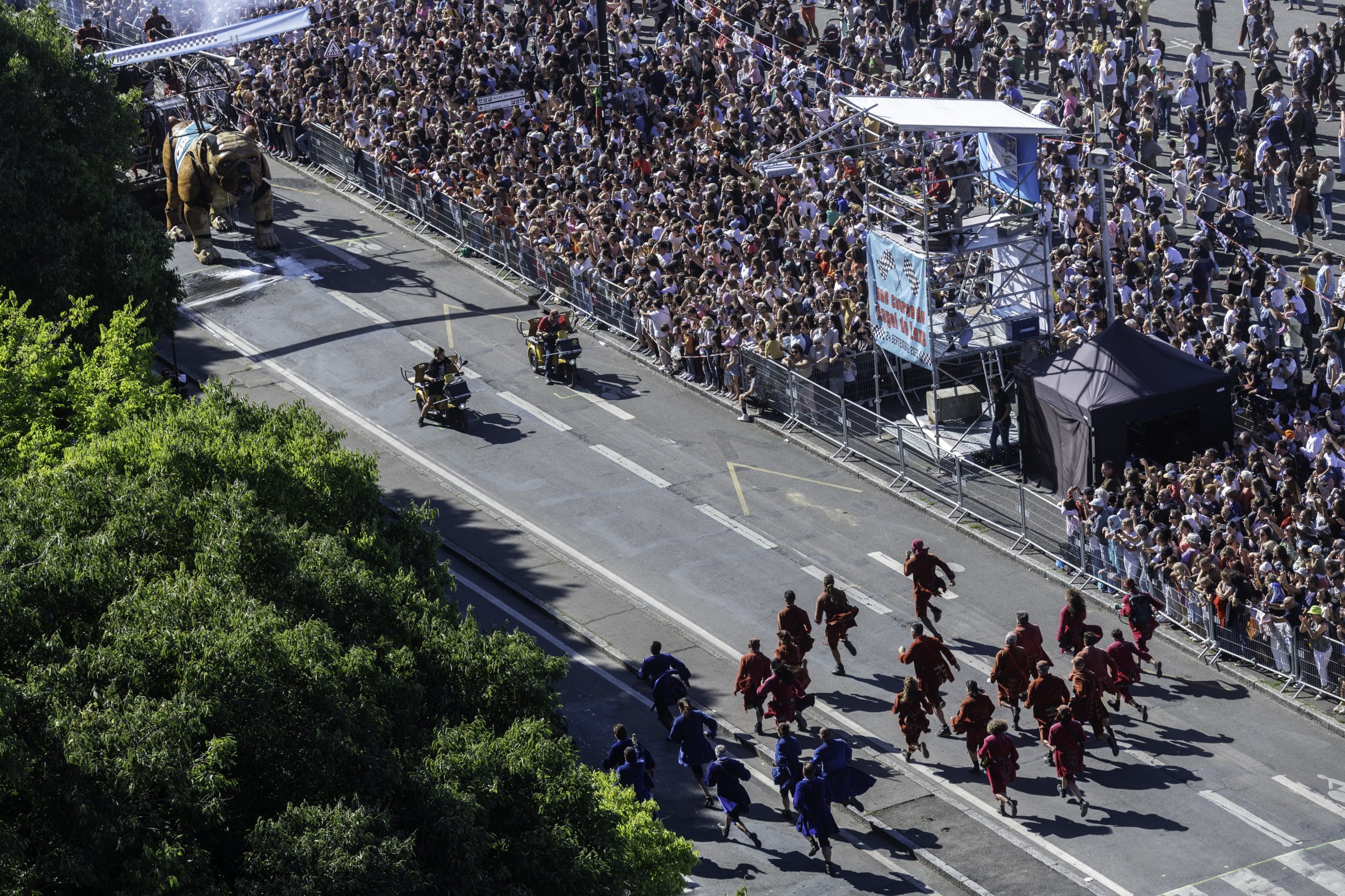 © Jean-Luc COURCOULT, author-artistic director and founder of Royal de Luxe
Testimonials
« Encore une belle histoire à la sauce Royal de Luxe ! 2 toutous venus s'amuser et amuser les milliers de spectateurs pendant 3 jours ! Du réveil , à la ballade et la course , El Xolo et Bull matin ont enchanté petits et grands ! Reviendront ils accompagnés d'autres personnages ? Le rêve et l'espoir nous disent que oui ! Mais quand? Très prochainement j'espère ! »
Leave your comment
Press
« De la foule, de la joie. Une parenthèse poétique et des images qui devraient rester dans les têtes. Pari réussi pour la compagnie nantaise Royal de Luxe, qui a débuté son nouveau spectacle hier.[...] Alors ce vendredi, dans Bellevue, les deux chiens géants sont sacrément attendus. Ça court pour suivre le pas vif du Xolo, ça applaudit quand il retrouve son copain Bull Machin, ça rigole quand le Bouledogue à l'air goguenard bave, ou que l'élégant Xolo s'arrête dans la foule pour quémander une caresse... Ça filme et photographie sans relâche. Il y a là des enfants, des parents, des plus âgés. Sous le soleil, des djellabas et des crop tops, des survets et des costards. Y'a de la joie, des sourires XXL, des yeux ronds et du plaisir à gogo. »
« Ponctué par une course dantesque, le show Royal de Luxe a conquis le public. Entre 350 000 et 400 000 personnes ont assisté au spectacle à Nantes et Saint-Herblain. [...] Les parenthèses sont faites pour être refermées. A peine ouvertes, chacun sait qu'elles auront une fin. Cette conscience de leur caractère éphémère, voire de leur fragilité, ne nous empêche pas d'en profiter lorsqu'elles sont agréables. Après tout, qu'est-ce que cela peut faire qu'elles ne soient que des parenthèses et qu'il ne soit pas prudent d'en tirer des enseignements puisqu'elles nous ont rendus heureux ! Nantes vient de traverser un de ces moments qui flottent au-dessus de la normalité des jours. Dans les pas des chiens de la compagnie Royal de Luxe, entre un ciel bleu au-dessus de la tête et une victoire jaune canari à la Beaujoire, elle a vécu un week-end de joie. Cette ville qui a si mauvaise presse, cette ville dont l'image s'est dégradée, a présenté à elle-même et à tous un visage au sourire éclatant. »
« Les tours s'enchaînent, on ne sait plus vraiment qui mène, qui gagne, qui perd. Mais finalement peu importe. Des étoiles s'allument dans les yeux grands ouverts, à chaque passage de ces bidules poétiques. "Ils ont chacun sous leurs pattes des merveilles", assure Jean-Luc Courcoult [...]. "Lorsqu'ils courent, le bitume rayonne de tendresse et se tord pour embrasser les passants avec deux bras". Une étreinte qu'on peine à quitter, un mirage qu'on aimerait voir se reproduire... »